Dear EPICUR students,
Thank you for your interest in EPICUR! Below you find answers to frequently asked questions. If your questions are not answered there, please send any questions by email as follows:
 
Questions on courses and application documents

:

epicur@ucf.uni-freiburg.de
Regarding the EPICUR Inter-University Campus at learn.epicur.education:

support@learn.epicur.education

Regarding the EPICUR Virtual Registration System at register.epicur.auth.gr:

epicur-vurs@auth.gr 
The EPICUR platforms:
Frequently Asked Questions (during or before your application):
When can I apply for EPICUR courses?
There are several registration periods each year. We will keep you posted on our website. To make sure you will not miss any news, you can also subscribe to our newsletter here:
https://epicur.education/newsletter/
How do I apply for EPICUR courses?
When the application period is open, you will find a guidance note for application in the course catalogue. Please read this carefully since this contains all relevant information. If you already want to prepare your application, here is the list of things you generally need:
Transcript of records
Certificate of enrollment
Proof of language proficiency or Self-stated language proficiency (explain in a few sentences where/how you have acquired the necessary language skills (usually B2 in the language of instruction))
Letter of motivation
Can I get financial support for attending EPICUR courses?
Most EPICUR universities have some funding available for their students. These funding opportunities will be distributed based on the letter of motivation. If you apply for the courses, you will be asked if you are willing to participate also in case you will not receive any funding. Ticking or not ticking this box will not influence any funding decision. It just gives you a chance to let us know if you are also able to participate in case we cannot provide funding for you.
Frequently Asked Questions (if you already have been accepted to a course):
How can I request a transcript on the EPICUR Inter-University Campus (EIUC)?
To request an EPICUR transcript, you need to perform two steps:
1) Complete your personal information on the EIUC. Otherwise, your transcript will not be valid.
2) Request a Trascript of records on the EIUC.
Please
click here for a manual
on both of these steps.
If your transcript doesn't show the correct courses, you might need to switch between your study profiles. Please see below under "How can I switch between my EPICUR study profiles"?
How can I attend my EPICUR courses?
Click on the
VCLP
the "Click here to access your courses" button.
You can also use the search function in the top right corner (magnifying glass) or access
this category
to locate your course.
Tipp: In the category or the search results click on the drop down menu next to your course on the right side and select "Add to favorites". Your course will then be easily accessible in your Dashboard.
I cannot see my courses in "My EPICUR courses" (yet). What shall I do?
If your course starts later this year, please be patient. The teachers of the course have to export the course to the VCLP and the course members must be synchronized with the VURS.
If your course has already started, please check if you have used the correct user account to login into the VCLP. Please use
the same account
you have used for registering at the VURS platform. If you have two or more accounts at your university, you might try out the other accounts.
If that does not help, please contact the support (support@learn.epicur.education). Please tell us your full name, university and course.
I do not know how to enroll to a specific course on the local university LMS. What can I do?
Please look on the local course page carefully for a "Enroll" or "Join" button or "I would like to enroll" link. Sometimes the link might be "hidden" in a submenu (for example behind a "cog wheel" icon). It can also help to change the language of the LMS to English, if you have difficulties to understand the content.

Most courses also require an enrollment key or password, which should be provided to you by the teachers of your course via email. If you have not received an enrollment key or password for your course, but require one to join or enroll to the course, please contact the teachers directly by using the contact link in the VURS.
I am attending a course by AMU and need help with the Moodle platform
How can I switch between my EPICUR study profiles?
If you are attending EPICUR courses in different EPICUR tracks, they appear under different study profiles. In the
Students App
you can access your study profile and change between them if you have more than one (see picture below).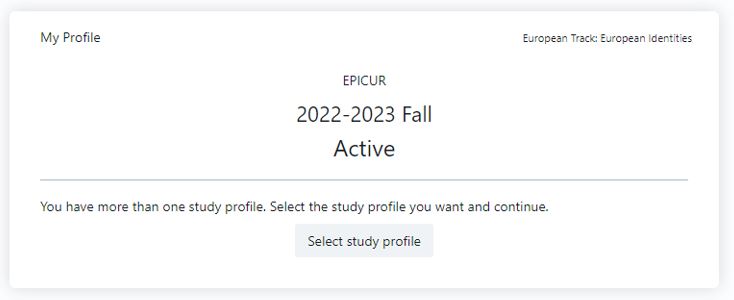 I want to de-enroll from a course. What do I do?
If you want to de-enroll from a course please inform the instructor AND file a request via the
Students App
. Please specify in the "Withdrawal from study" request which course you want to drop.